Joe Speegle :: 2018 Cy Butler Award Recipient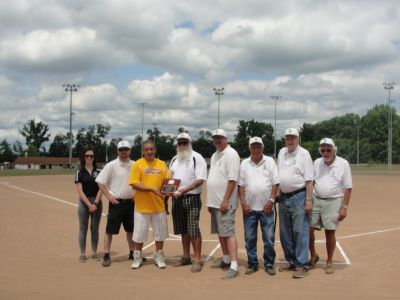 Joe Speegle with Executive Committee
Joe Speegle is a man who not only showed a community how to play real baseball, but how to succeed in life by hard work. Joe is the most loyal and humble human being. He has never turned a child away, and will give anyone a chance to be what we like to call our RAM Family. When this honor was brought to his attention, the first thing he said was as long as I do not have a game MAYBE. Coach does not do this for recognition or championships, but he does this to help children in his community become young men..
Every year on his game schedule he puts hard work + dedication = success so the kids know to play hard and if you commit to something always give it your all. For the past 30 plus years, you can always find our favorite coach at the Corner of Brown St and Clinton Ave. either throwing BP or dragging the field so they can play on a nice field.
Joe Speegle there is a reason the kids you have coached are now bringing their kids for you to coach. This is long time coming and well deserved. Congratulations, I love you and so does the RAM Family.
Muskie & Rose Rivera :: 2018 Hall Of Fame Inductees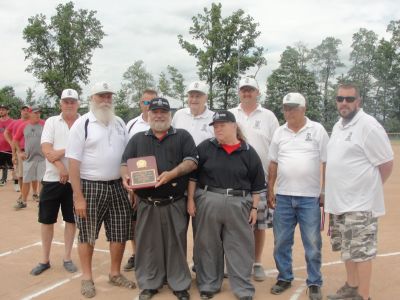 Muskie & Rose with Executive Committee
Balls and strikes: safe and out:Muskie and Rose. These are staple phrases of Hot Stove Baseball in Lorain County Hot Stove Baseball and have been for over forty years. Nobody can quite remember when this loving couple began umpiring, as they have been a fixture for so long. They have battled through injuries and adverse conditions to always be a consistent team of umpires at all levels. Rose has somehow managed to keep Muskie in line for all these years as well, even making necessary "equipment adjustment" during games. They are ever-present each spring at new umpire training sessions to mentor new, young umpires while always staying current on the latest rules and interpretations. Their love of the game of baseball, umpiring, and Hot Stove Baseball beams through their smiles, each and every time they show up at a ballpark.
They met through work several years ago, and Rose took Muskie under her wing. She taught him that fishing with a rode was OK, but noodling was true sportsmen. Both currently serve on the Board of Directors for the Beaver Creek Sportsman's Club, as well as teach hunter safety and concealed carry courses. Do not argue balls and strikes with these two; they are both veterans and students of the martial arts!
Rose and Santiago "Muskie" Rivera embody Hot Stove Baseball and are deserving of the honor of Ohio Hot Stove Hall of Famers.
Ron Jantz Sr. :: 2018 Hall Of Fame Inductee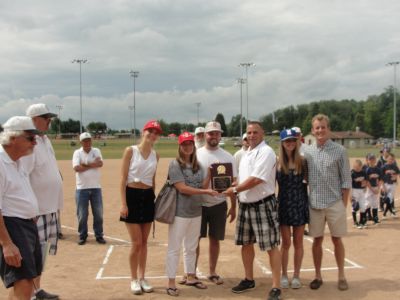 Ron's family with Executive Committee
Thank you for selecting our father to the Ohio Hot Stove Hall of Fame. It is with great pride, in knowledge of how much baseball and coaching meant to our father. If you look for numbers in wins and championships as one of your markers to judge Hall of Fame worthiness, Ron Jantz has the numbers. If you look for years of dedication, his history checks that box too. If you look for selflessness, a volunteer willing to do anything from raking fields to leading as President, check the box again. If you look for lifelong impact, there are men all over Lorain County and northeastern Ohio who are coaching today because of their childhood coach, Ron Jantz.
While his on-field accolades are impeccable, his good-natured spirt are what sets Mike aside for the masses. He umpired at the State Tournament for several years and served his home community of North Ridgeville's Palmer field whenever needed. Whether it be painting, construction or field maintenance, Mike was always there to aid in whatever capacity necessary. He would umpire at any level, always being present when scheduled and was responsible for mentoring several young umpires. To this day, he is still a mainstay at Palmer Field, cheering on his grandkids and being a positive supporter of Hot Stove Baseball.
Ron Jantz's involvement in Grafton Hot Stove started in 1970 as a manager for his first son's team. His career would span two and a half decades as a man directly involved in the great game of baseball. As a coach, he was a leader for all levels. His oldest son's team could easily be characterized as the original "Bad News Bears." His youngest son's team resembled the 1927 New York Yankees. Two eras of young boys, playing baseball on two completely different spectrums of skill and yet the common threads was a man who taught them not only how to play the game but to live it and to love respect each other.
His humility was a gift. He absolutely loved to work the fields and make them look beautiful for the boys to play baseball on. Ron was a carpenter and his sunrise starts to the work of the day afforded him the ability to also care for the fields. His carpentry skills came in handy when anything needed built or fixed in the concession stand too. He worked his way up Grafton Hot Stove, from young manager and coach to President and every role in between. The exact years of his Grafton Presidency are found nowhere in the mid-1970s and early 80s. His commitment continued as his two daughters played softball.
Ron Jantz never took a summer vacation. His time was spent on the sandlot fields in Grafton and scattered across Lorain County. His Grafton Eagles baseball teams were very successful – winning five Lorain County Championships, five district Championships, four Regional Championships and appearing in four Ohio Hot Stove Final Fours and Two State Championships games in Alliance at Butler Rodman Park. His win-loss record with the Eagles was 191-67, posting nine winning seasons in 12 years (that success included being "young" players in the age class every other year.) As his teams got older and aged out of Hot Stove, he coached college player and former professionals in the Cuyahoga County class AAA League and was the Varsity Baseball Manager for the Midview High School in the late 1980s and early 90s.
As a Hot Stove coach, he loved that trip to Alliance and the small hotel that sat across the street from the park. A reservation there meant that his team had done well, but it was the road that led to Alliance where Ron excelled.
That foundational road of building young men and setting an example of sportsmanship, leadership team concept and perspective not only stands as his legacy but lives on in countless ways through the once young boys who are now middle – aged men coaching their own children. They coach with the principles learned from our father, the children they coach will learn, and one day coach the same. The ripple effect tingles the spine.
Ron Jantz Sr. "officially Coached baseball nearly 25 years, the decades after may, more than anything that came before, serves as the true mark of the man. The Ron Jantz Sr. Memorial Scholarship was established postmortem. It rewards one Grafton Hot Stove player a free summer of baseball or softball annually.
With deepest regards, thank you for selecting Ron Jantz into the Ohio Hot Stove Hall of Fame.
Sincerely,
The Lorain County Hot Stove Executive Committee and the Family of Ron Jantz Sr.