Bob and Jeannie Miscuda :: 2017 Cy Butler Award Recipients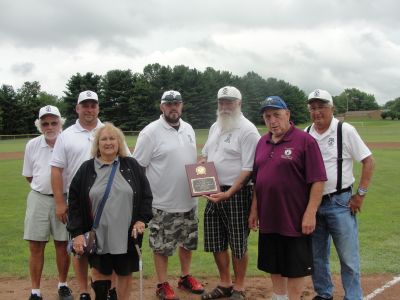 Jean & Bob with Executive Committee
In 1985, Bob and Jeannie Miscuda became involved in Hot Stove Baseball, Bob coaching their sons and Jeannie keeping score. Through the years, they have both continued to serve in many ways.
Early in their involvement, they became members of the North Ridgeville executive board and were instrumental in securing funds and equipment to put lights on diamond #2 at Palmer Field. They were also involved in the purchase of the corner lot now used for extra parking.
In Belden, she took on the scheduling of the concession stand for the year 2014 2015. In 2010, both Bob and Jeannie were inducted into the Ohio Hot Stove Hall of Fame.
Jeannie has served as the secretary of the Lorain board since 1989. She has served as the assistant tournament director and is responsible for maintain the paperwork for all teams playing in the Lorain County tournaments. She also has made the playing schedules for class E and EE teams always willing to step in to help a new VP create a schedule.
Bob continues to coach, now coaching their grandsons. He was involved in the Ridgeville youth basketball program for 25 years and is still involved in the youth football program after 40 years. Bob has also helped with coaching of their granddaughters' soccer team.
Bob has served as the director of the Lorain County Hot Stove tournament for the last 10 years and continues in that position today.
Through the years while they both have held many positions and worn many hats you will find them at the fields when their sons, grandsons, and granddaughters are playing. It has always been family first.
Doug Broadwater :: 2017 Hall Of Fame Inductee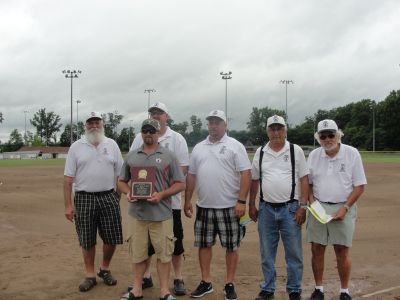 Doug with Executive Committee
Doug's love of baseball has been with him throughout his life, but his involvement, as we know it, started in 1999 when he began to coach the Hydro Tube team in Wellington. Like any first-time coach, Doug did not know exactly what he was getting himself into when he agreed to coach his son's team, but we are thankful that he stepped up and coached anyway. He put his heart and soul into the team and into teaching the kids the fine art of baseball. He went on to coach that team for 10 seasons, 3 state bids, 225 wins and only 26 losses. I am sure if you ask him; he would say he wishes there were a few more wins and a few less losses because that is the kind of person Doug is. He is always constructively dissatisfied in such a way that he constantly strives to make things better...for the kids in our communities, for his family, for our town, for Wellington Hot Stove, and for Lorain County Hot Stove.
Because Doug is that kind of person, it is not surprising that, in 2005 he decided to become an umpire, He already knew the rulebook inside and out...so why not? Right? Then in 2009, after 4 years of successful coaching and umpiring, Doug decided to join the Board of Wellington Hot Stove where he served as Head Umpire, Personnel Director and President throughout his 7-year tenure. He took an organization that was barely getting by each year, and with help, turned it into a thriving organization. We are proud to say that our organization is now able to give back to the Wellington Community because of the solid foundation that Doug built during his time at the helm.
After having been a part of the Lorain County Hot Stove Board for 9 years, I am sure you all can attest to the many qualities that Doug brings to the table better than we can. He is exacting, tenacious, caring, forthright, proud, honest, and fail. He has a positive attitude and a willingness to help in any way he can be of assistance. We are indebted to him for all that he has done, humbled by the opportunity to pick up where he left off in Wellington, and thankful he is continuing his involvement at the county level so we can still bug him every now and then.
Mike Hosler :: 2017 Hall Of Fame Inductee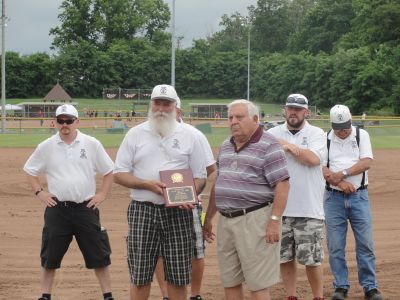 Mike with Executive Committee
Mike has been a Hot Stove and high School umpire for 34 years, from 1981 through 2014. He also served Lorain County Hot Stove's Treasurer for a number of years and received a recognition award from Lorain County for 25 years of service in 2005. Mike was also president of Elyria Umpires association for many years and even received Elyria Umpire Association Umpire of the Year Award in 2003. In addition, he received the Elyria Umpires Association's Award in 2005. Mike also gained sponsorship for the Lorain County Tournament book and even printed it.
While his on-field accolades are impeccable, his good-natured spirt are what sets Mike aside for the masses. He umpired at the State Tournament for several years and served his home community of North Ridgeville's Palmer field whenever needed. Whether it be painting, construction or field maintenance, Mike was always there to aid in whatever capacity necessary. He would umpire at any level, always being present when scheduled and was responsible for mentoring several young umpires. To this day, he is still a mainstay at Palmer Field, cheering on his grandkids and being a positive supporter of Hot Stove Baseball.
Mike also instilled the love of baseball, Hot Stove and Palmer Field in his family. His son Steve recalls that, from an early age, baseball was always a part of their lives. He registered Steve for Hot Stove Class H when he was of age. Steve said "I remember my first game was at Lagrange and in my only at bat I fouled a ball off. I struck out, but he was very positive after the game and told me how good it was that I had fouled that ball off." That statement sums up Mike; he always sees the good in people and makes sure they know what those good qualities are. Steve goes on to say "when I had kids, there was no other place I wanted them to play than Palmer Field. I have umpired 4 years of Hot Stove and High School and have been told by anyone who recognized my last name that my dad was one of the best umpires they either worked with or had umpire their game."
Ted Miglich :: 2017 Hall Of Fame Inductee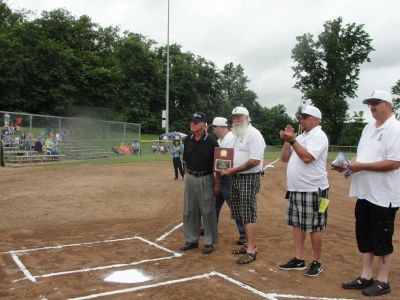 Ted with Executive Committee
Ted has been a Hot Stove and high school umpire for many years, as well as well-respected umpire at state for more than 20 years. Ted has previously served on North Ridgeville's Umpire-in-Chief and Boys Personnel Director. Not only is he a phenomenal baseball umpire, but he also a phenomenal girls' softball official. In addition to baseball, Ted has also been a football referee at various levels, from flag through high school.
Ted has been a mentor to several young umpires over the years. His calm demeanor vast knowledge of the rules of the game has set him apart from the rest. Even approaching the magic number of 80 years old, Ted still does a fantastic job of umpiring baseball and softball at all levels and has no signs of slowing down. The constructive knowledge and mentoring he has provided young umpires is done so in such a gentle nature that when many umpires are asked what umpire they learned the most from, there answer is Ted.
Ted's talents are not limited to his "life in blue." He also has been a consistent help to anything that ever needed to be done. For years, he was instrumental in assisting with field maintenance, both at Palmer Field and North Ridgeville High School. He never wanted any recognition or acclaim for helping out; he just wanted kids to have the best experience possible with the game. He keeps things simple, yet always pertinent, "Show me that ball" is a favorite phrase of Ted's and sums up his good-natured love of the game, along with his ever-present smile. He embodies the spirit of Hot Stove Baseball.