Gene Farr :: 2016 Hall Of Fame Inductee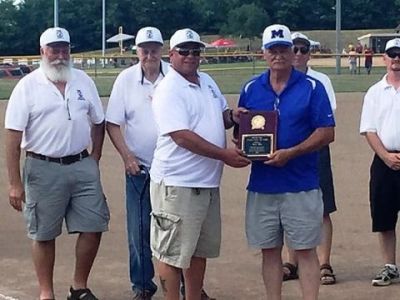 Gene Farr Receiving His HOF Award
It is with great pleasure that we nominate Gene Farr to the Ohio Hot Stove Hall of Fame. As a highly respected coach, mentor, and leader, Coach Farr's contributions to Hot Stove are exemplary.
Coach Farr has been coaching baseball for over 50 years, and is one of the founding members of what is now known as Midview Youth Baseball. During his Ohio Hot Stove career, his record is 174-23 with 2 State Championships and 2 additional State appearances. However, the record of Coach Farr goes far beyond wins and losses. In fact, his character defines his greatness. He has always treated his players and fellow coaches with great respect. Coach Farr has probably lost games where he would not risk further injury to a banged up player because he had no doubt that it was the right thing to do. Coach Farr refuses to "run up" the score against a beaten opponent and steadfastly asserts that his own players deserve playing time if they have paid the price of regularly attending practice and trying their best. Again, he does this because it is the right thing to do. When he was not coaching his own teams, he would always take the time to work with other players and give the coaches his thoughts and guidance.
Coach Farr is a great leader to both the players and fellow coaches. He is one of the hardest working and mentally tough men, who has ever walked our baseball fields. Yet, he is unbelievably modest, and does not seek honors and recognition. This may be one of the reasons that he may have been overlooked at times despite outstanding accomplishments repeatedly throughout his time in Ohio Hot Stove. Those of us that know him know that a finer and more deserving man has never coached for us. He has influenced many young men to enter the coaching profession, become police officers, doctors, lawyers, teachers, and to accomplish things that they never would have even attempted without his guidance.
In conclusion, Coach Farr is a man of great moral character, and one who has shown strong will and courage both on and off the baseball field. He is also a loving family man, a great role model, a great friend and an outstanding contributor to the Hot Stove community. Above all, a man who deserves all of the recognition and respect that we can bestow upon him.
Thank you for considering him for the Ohio Hot Stove Hall of Fame.
Sincerely,
Midview Youth Baseball
Bill Benton :: 2016 Hall Of Fame Inductee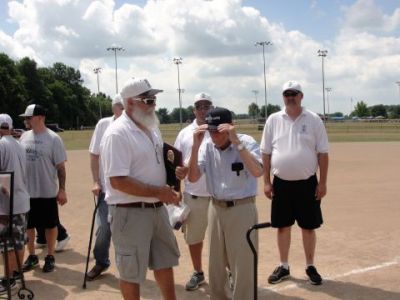 Lou Vasi and Bill Benton
Bill Benton first became involved in organized baseball in 1961. This was even before Hot Stove was active in North Ridgeville. Bill managed an 11-12 year old team sponsored by Bess and Andy's catering, the "neighborhood kids" as he calls them, to the North Ridgeville City Championship.
When Hot Stove ramped up around 1965, youngest son Ron was starting out in H league and Bill was umpiring High School ball in the spring. Always willing to help and never one to sit around he helped build the backstops, dragged the diamonds, and mowed the grass that turned Palmer field from a true field to a youth baseball complex. When it came to umpiring, there were many times Bill would be the umpire, Ron was catching, and oldest son Bob, was coaching the opposite team. Of course, Doris, the mom, would be watching and not knowing whom to root for. When Ron was 13 and could not hit a curve ball, he left Hot Stove to concentrate on golf, (the ball does not move while you are trying to hit it).
Bob had married and moved on but Bill continued umpiring. He continued umpiring for approximately the next 20 years at Palmer Field and all games, approximately 1800, were done on a volunteer basis. At the end of every summer, Norm Gerhart would try to give Bill a check only to have him return it to the North Ridgeville Hot Stove League. He was the umpire-in-chief 3 times for tournaments, umpired in the State Tournament in Alliance 4 times, and was well respected by managers, players, and fellow umpires.
Mona Lou Gerhart :: 2016 Hall Of Fame Inductee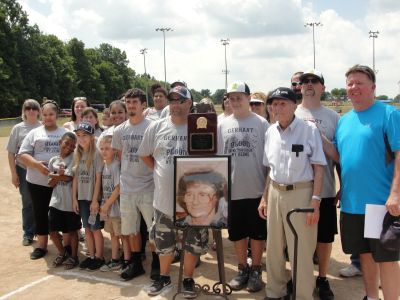 Remembering Mona Lou Gerhart
Mona Lou married her husband, Norman Gerhart in 1949 and they raised seven Children. When her oldest son, Chuck, started playing ball, she got involved with Easton Hot Stove around 1964.
Mona Lou was instrumental in helping Norm establish and build Palmer Field in North Ridgeville. Palmer Field is the home of Ridgeville Hot Stove Baseball.
From 1969 to 1991, Mona Lou was involved in both the City and County Boards as secretary. Mona Lou served as Ohio Hot Stove Baseball recording secretary from 1989-1992. She was the first lady to serve as a member of the Ohio Hot Stove Baseball Executive Committee.
Mona Lou did whatever was asked of her be at Palmer field, working concession stand, organizing fundraisers and district and regional tournaments.
In 1975, Ohio Hot Stove Baseball League, Inc., along with the Alliance Charter wanted a way to recognize individuals who dedicated their time and effort to the betterment of Ohio Hot Stove Baseball Program. With this in mind, the Cy Butler Award was established and first presented in 1975. This award is the most prestigious award presented annually by Ohio Hot Stove Baseball. The award was named in Honor of CY Butler the founder of Ohio Hot Stove Base. Norm and Mona Lou received the CY Butler award, together, in 1985.
Norm and Mona Lou were synonymous with the your baseball in North Ridgeville from the lath 1960's until the early 1990"s. Mona Lou was stricken with a debilitating illness and hnd to step down. She passed away in 1996
Barry Benedict :: 2016 Cy Butler Award Recipients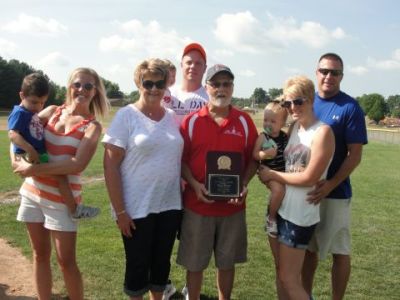 Barry Benedict and Family
HOT STOVE League is a baseball related term referring to the sport's off-season reference to images of baseball fans gathering around a good old fashion "hot stove" discussing their favorite baseball stories, teams and players.
This is the exact organization that Barry needs to be involved in because he can remember players and baseball stats better than anyone I know.
The CY Butler Award was established to recognize an individual who has dedicated their time and effort to the betterment of Hot Stove Baseball.
Barry is passionate about baseball, He played in his youth and continued his passion coaching his son Cael from I league thru E League.
In 2012, Barry suffered and accident that left him unable to work as a Pharmacist and question what he would be able to do, but he pressed on and worked hard to gain his strength and endurance. Before you know it, he was right back out there on the baseball field coaching in Hot Stove as well as being active in Marlington baseball program.
In 2003, Barry decided to join the Board of the Alliance Hot Stove league so that he could be more actively involved in helping the youth of Alliance area.
As a board member, he holds the office of secretary. He coordinates season schedules, assist in field scheduling, works as liaison to parks department, works to organize coverage for tournaments; scorekeepers, field directors etc. He even designs and orders the sale of the final four T-shirt fundraiser AND fields many phone calls. Barry is the first to say, give it to me, I have the time.
He has coached for 27 years in some capacity. He loves coaching. For Barry it is not always about the win although winning is great! For Barry it is more about giving the young people of the Alliance area the opportunity to play baseball. He strives to keep Hot Stove active in the Alliance area.