Wayne Carter :: 2015 Hall Of Fame Inductee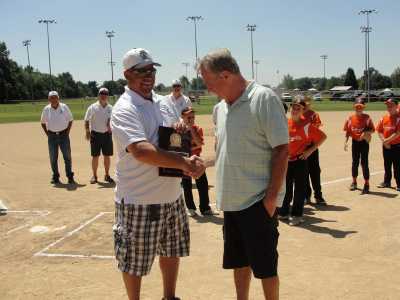 Pat Anderson and Wayne Carter
It is with great honor that Lorain County Hot Stove and the North Ridgeville Baseball League nominates Wayne Carter for consideration for induction to the Ohio Hot Stove Baseball Hall of Fame.
Wayne has been part of Hot Stove Baseball since his playing days in the 1960's. After getting married to his wonderful wife, Kitty, they began raising their two great children, Jessica and Matt, while Wayne worked long hours for Ford. When Matt was old enough, Wayne returned to Palmer Field as a coach. He coaching record is staggering; He compiled at 283-30 record (.904 winning percentage) while capturing Hot Stove State Championships while coaching The Ogres (2) and Hall's Towing (1.) In addition, he was 10 time District champion, 6 time regional champion, 3 time state runner-up, 4 time county champ, 1 time county runner-up. His teams were known for their fundamentals and making routine plays. His teams were mentally tough with a "bulldog" attitude.
While his coaching resume is quite impressive, Wayne and his family forever endeared themselves to the fabric of Hot Stove Baseball in North Ridgeville and Lorain County Hot Stove. From 1990 through 2001 Wayne and Kitty helped run the concession stand at Palmer Field as well as helped work on the fields. Wayne also served as the Equipment Manager in 1998 and 1999, then as the Boys Personnel Director from 1999 through 2001.
After a brief time away, where he also retired from Ford, he returned to Palmer Field in 2008. He was instrumental in turning Palmer Field around to the thriving park that it now is, returning it to its former glory. He still remains the sole groundskeeper and all-around "field guru" to this day. Beloved at Palmer Field as "the man that gets games in when no one else can." Often times games in all other communities are rained out, while Palmer is playing, thanks to Wayne's hard work and dedication. He is also a personal mentor to many, in terms of approaching the game. Wayne will talk fundamentals and strategy all day. He is willing to sacrifice his personal time and energy for the good of the league and all of the kids that play in it. He is most honest and hard-working person one could ever be around and is someone for everyone in our community to model themselves after. He has never asked for a shred of credit during his time, but continues to work as hard as he ever has for the good of all 350+ children that play at Palmer Field. With all of this to his credit, he still remains a humble man that likes to avoid the spotlight at all costs! In 2014, the North Ridgeville Baseball League dedicated the newly constructed batting cages to Wayne and Kitty Carter. While it was kept a surprise, Wayne still needed to be coaxed to accept this great honor; just one sign of his humility and desire to keep the focus on the children and Hot Stove Baseball! We humbly submit this nomination for your approval for induction to the Ohio Hot Stove Hall of Fame!
Respectfully Submitted,
Lorain County Executive Committee


Jim Clark :: 2015 Hall Of Fame Inductee
Lou Vasi and Jim Clark
The Grafton Hot Stove Board would like to nominate Jim Clark for consideration of the Hall of Fame Award. Jim Clark began coaching his son's baseball team in 1966 for Elyria Little League West. Soon after he moved his family to LaPorte, where he continued coaching all 3 of his son's baseball teams for LaPorte Hot Stove from 1970 through the late 90's. Jim coached his 3 son's until they graduated from High School and reached the adult age limit.
Along with coaching his son's Hot Stove teams, he also coached the Midview High School Freshman baseball team for several years. While coaching for LaPorte, Jim was also active in the LaPorte Hot Stove board. Records could not be verified of his actual positions held, but a discreet conversation about his past endeavors revealed that, "I did whatever needed done!" A motto of Jim's that you will see repeated multiple times throughout this submission. Jim admits that the LaPorte community diminished over the years and a need arose to combine forces with a sister community. Jim was involved in merging LaPorte and North Eaton Hot Stove communities to make a stronger Midview North Hot Stove, which is now known as Midview Youth Baseball.
Not long after his son's ceased playing Hot Stove baseball, he had grandsons that began playing baseball for Grafton Hot Stove. Jim did what he knows best, coach the farm league team that his grandson played on. In 2000, Jim continued his involvement in Hot Stove with Grafton. Jim always wanted his sons and grandchildren to play at the most impressive facilities, so he took it upon himself to ensure they were. At this time, Grafton Hot Stove played their games at the Immaculate Conception Church's fields. Jim maintained these 5 fields, making the best of the tight area that these fields were jammed into. Several years later, the Village of Grafton began construction of its current complex, Reservoir Park. Being so involved in the maintenance of the current baseball fields for so many years, Jim gave advice on layout of the baseball fields being constructed. Around 2005, Grafton Hot Stove made Reservoir Park its home fields. Since that day, Jim has been the grounds coordinator, ensuring these ballfields were the best they could be. He has maintained these 4 ballfields and full functioning concession stand with restroom facility on a daily basis, making sure that they are cleaned daily. He has prepped the fields for play for 10 Hot Stove teams and 9 Ohio Girls Softball Organization teams ever since. Jim takes pride in ensuring the fields and facility are in the best condition possible for our youth.
Around 2010, a struggling Belden Hot Stove was merged with Grafton Hot Stove. This addition added more teams and the addition of 3 Belden Fields, located at Grafton Township Hall. Once again, Jim never thought twice. He added the maintenance and game prep of these fields to his plate. Initially, these fields had not been cared for in some time and vegetation took over the infield. Jim got the fields back to playable shape in no time. Soon after the Belden merger, Grafton Hot Stove and Midview North were in talks to also merge. Jim provided guidance and was involved in accomplishing the merger of the girls' program from both organizations. Although a merge for the Hot Stove eventually fell apart and both organizations agreed to remain separate entities, Jim provided insight for both parties.
Referring to his motto, "I did whatever needed done," has never left his actions. Jim has served as Vice President and Trustee to Grafton Hot Stove for more than 15 years, a position he currently holds. He has served as a liaison to the Village of Grafton and Grafton Township in obtaining field usage permits and ensuring that the facility is opened and closed properly for each season. Jim has always picked up the slack of any loose ends that needed attention for the organization. He has always set up the facility for all district and regional Hot Stove tournaments hosted at Reservoir Park.
Jim is a daily fixture at the ballfields prior to games, ensuring they are in the best condition they can be in. Jim has graciously opened his home to phone calls at any time of the day or night and impromptu meetings that needed a venue. It is the opinion of the Grafton Hot Stove Board and Executive Committee (without Jim Clark's knowledge) that Jim Clark is worthy of being considered a recipient of the Hall of Fame Award. We feel that his lengthy accomplishments and longevity in Hot Stove are befitting of this award.
Thank you for your consideration,
Grafton Hot Stove & Midview OGSO Board
Patty Vasi :: 2015 Cy Butler Award Recipients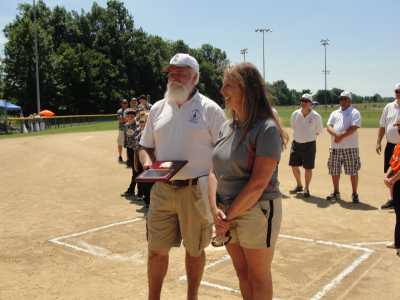 Loy and Patty Vasi
It has been said that behind every great man, there is a great woman. A great example of this is Patty Vasi. She has the unique distinction of keeping Hot Stove of Famer and OHSBL Vice President, Lou Vasi, on the straight and narrow. Not only is she a supportive wife, but as the Lorain County Hot Stove Treasurer, she keeps the rest of the board in line as well.
Patty takes on many responsibilities that might go unnoticed yet are essential to Hot Stove Baseball. She coordinates the baseball orders for the entire state. She ensures tournament sites are properly funded. She even gets up in the wee hours of the morning and bakes cakes with her daughter, Brooke, to have at tournament sites. She makes arrangements for meetings. She also keeps everyone organized by printing out countless schedules, rosters and other needed items. During tournaments, rather than enjoying the great games, she is working behind the scenes, communicating with different sites as far as game results, dreaded rain rescheduling and keeping the website up to date. She's even been known to hop behind the counter at concession stands to help wait on customers. When someone is honored as a Cy Butler Award Winner or inducted into the Ohio Hot Stove Hall of fame, Patty Vasi organizes the celebration. To top it all off, you never see her without her patented (Dunkin Donuts-fueled) Smile!
Everything Patty Vasi does show her ardent and undying dedication to Hot Stove Baseball. Many of the things folks take for granted in the entire organization are made possible directly by her efforts. She does all of this by remaining behind the scenes and in in the shadows. Many people in passing would only recognize her as the lady who is always there with a bright smile and a large cup of coffee, but those that truly know her appreciate all of the hard work and dedication she has provided Ohio Hot Stove for many years. It is for these reasons and an even greater litany of thing that weren't stated the we would like to nominate Patty Vasi for the prestigious award Cy Butler Award.
Respectfully Submitted,
Lorain County Hot Stove Executive Board