Tom Gehring :: 2013 Hall Of Fame Inductee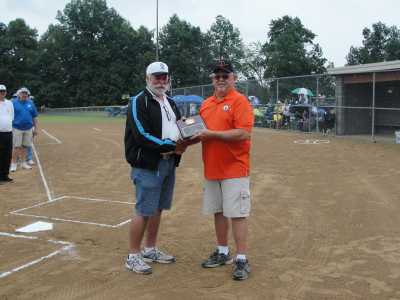 Lou Vasi and Tom Gehring :: HOF Award
It is with great honor and pride that Lorain County Hot Stove nominates Tom Gehring for induction into the Ohio Hot Stove Hall of Fame. Tom has been the Class FF/ F Vice president for over 15 years and has been a staunch supporter of Hot Stove for well over 40 years. He is the 2010 Cy Butler award recipient but his contributions run much deeper than many know.
Tom began coaching over 30 years ago in Spencer. Many of the youngsters he coached have also had their kids play for Tom. Coaching at virtually every level, Tom consistently improved his teams as each season went on, instilling the values and fundamentals that are key to the game. His players were taught to respect the game and to play it the right way. Many of his players went on to become coaches and umpires themselves, patterning their coaching style after Tom, providing that imitation is the best form of flattery.
Tom Gehring has been the heart and soul of spencer athletics for the past 40 years. His involvement through the years encompasses all of the major sports on both the local and county level, as well as the Black River High School athletic program, which are still going strong due to foundation laid by 'Tom over all these many years. He has been involved with hundreds of people over the years in all facets of Spencer and Black "River athletics.
In spite of all of these remarkable achievements and milestones, Tom has remained an active participant in today's current athletic scene, particularly with Black River High School. He is the P.A announcer for both the basketball and football varsity teams, and is currently the girl's Junior Softball coach as well. Both Tom and his wife Irene are active in all academic and athletic affairs relating to the community and school system, and their dedication and commitment are to be truly admired and respected. And over these many years, he has remained a loyal and humble person, with and easygoing and engaging personality. He never looks for the recognition or acknowledgement of what he has done, but he is very deserving of this special honor presentation.
Respectfully submitted,
Lorain County Executive Committee
Mark and Pam Stavole :: 2013 Cy Butler Award Recipients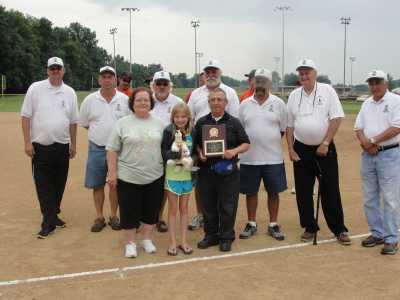 Pam, Emma and Mark with the Executive Committee
It is with great honor and pride that Lorain County Hot Stove Nominates Mark and Pam Stavole for the Cy Butler award. Mark and Pam have been with Lorain Hot Stove for many years. Pam is currently the boys' personnel director for Vermilion Hot Stove and has been for 6-7 years.
Marks love of Baseball began at the age 14 when he helped pitch class F American Legion Junior Baseball team to a City Championship.
He started his coaching career with recreation ball for 6 years when his 2 sons were young. He advanced to class EE Hot Stove in 1993 and from then on he found a home coaching Hot Stove E for 19 more years. That's 20 years of Hot Stove!!
To that he added 10 years of High School JV Ball, 6 years of Fall Ball and 9 years of College Ball. In 2011 Mark was given the Ohio High School Athletic Association Award for Sportsmanship, Ethics and Integrity.
While enjoying his 20 year span in Hot Stove, "his Boys" won the State Title twice in 2007 and 2011, were runner-ups twice and appeared in the final four 7 times, along with 7 regional wins and playing in the Lorain County championships 10 times. That's a pretty good accomplishment. This year he is coaching a AAA Wooden bat team of 18-25 year olds with 7 of his former Hot Stove players as starters on his AAA team.
He missed Hot Stove this year and all of the wonderful people he's met in Akron, Canton, and Lorain County and may possibly return to class E next year. Mark's tradition of giving young players the opportunity to learn the game of baseball, to meet their full potential, and the lifelong friendships they can make will always be his first love. Mark and Pam met roller skating as dance partners about 50 years ago. What a team they make.
Pam has been the secretary for the Athletic Director at Vermilion High School full time since 1998, Philip Brickner, Vermilion AD could not give enough praise for what an outstanding assistant she is to him, she keeps up on required paperwork, physicals, coaches that the AD didn't even know he needed to have.
Mark and Pam have a beautiful granddaughter "EMMA" that gets to share the Hot Stove Experience with them or get dragged along anyway.
Respectfully Submitted
Lorain County Executive Committee