John and Lin Tsangeos :: 2012 Hall Of Fame Inductees
I would like to nominate John and Lin for induction into the OHSBL Hall of Fame. John and Lin had been involved in Hot Stove Baseball for the past 20 years.
John served on the board as president of the Plain Local Baseball Association for approximately 12 years and on the Stark County Hot Stove Board as Secretary and 1st vice president for 8 years. Because of his devotion and giving of his time he made my job much easier in running the Stark County Hot Stove Baseball Program.
Lin has been a great asset to Stark County Hot Stove Baseball program as she has given so may hours in support of the baseball program and without her help I'm not sure we could have accomplished our goals. Without her help I know some thing would have not have been done in a timely manner.
There are so many nice things I can say about John and Lin and if I did I would be here all day. So let me say in closing, John and Lin you are the best.
Jack Bird, President
Stark County Hot Stove Baseball
Chris Ludle :: 2012 Cy Butler Award Recipient
Chris Ludle and The OHSBL Executive Committee
I would like to nominate Chris Ludle for the CY Butler that will be presented at the 2012 OHSBL State finals. Chris began coaching Tee and I ball in 1991 when his sons started playing. After that he decided to "Get involved", which we use the motto on our logo today, and in 1992 joined the North Akron Hot Stove Board.
In 1993 and 1994 he continued coaching with the H Giants.
North Akron Hot Stove and Patterson Park Leagues then merged to form to form the North Akron Baseball Association as it is today. Chris has served on the board since its inception.
From 1997 to 1999 He coached F League and was very instrumental in working with the City of Akron officials on the design and layouts of the Patterson Baseball Complex. He has served as Field Commissioner since the Park's opening. About the same time, Chris worked with the board to start the Paul Patton Memorial Tournament which continues to be one of the best tournaments' in our area and is a tribute to Hot Stove Baseball. In the last 15 years there have been 512 teams and over 6400 players have participated which produced 18 state Champions, 59 Regional Champions, and 173 District Champions. I'm continually complimented on the job Chris and his crew of volunteers do.
1993 to 2003 he coached EE and E league.
In 2000, OHSBL awarded North Akron a District Tournament site and few years later a Regional site. Chris has held the Tournament Director or assistant Director's position ever since and has devoted countless hours to be sure our tournament and facility makes OHSBL and the city of Akron proud.
Chris Works for the City of Akron Public Utilities Bureau as a supervisor and has assisted the Akron Recreation bureau with hosting the OHSAA Girls Softball State Championship at Firestone Stadium the past three years. He has received the following recognition:
2001 inducted into the Greater Akron Baseball Hall of Fame when he received the Lockhart Service Ward
2005 received an outstanding Community Volunteer Award from the City of Akron.
2011 received the Merit Award from the Italian American Council of Summit County.
Ron Owens
President North Akron Hot Stove Baseball

John W. Valle
City of Akron Deputy Service Director
Dick Clark :: 2012 Cy Butler Award Recipient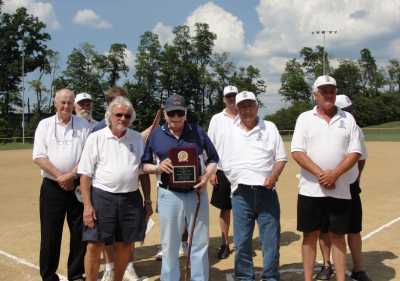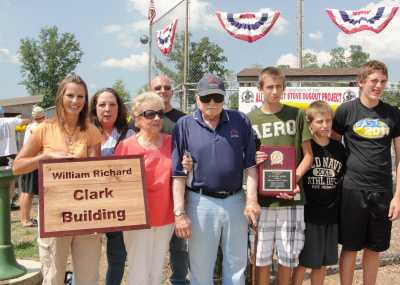 Dick Clark and Family
It is with this dedication Dick has shown over the years that makes the OHSBL and Alliance Hot Stove programs function for the players that pass through these programs.
Jim Newman, President
Alliance Hot Stove Charter