Ken Carpenter :: 2011 Hall Of Fame Inductees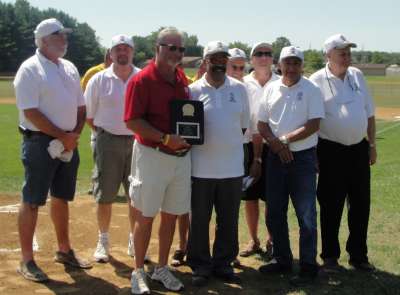 Ken With HOF Award
It is with great pleasure that we nominate one of our own, Mr. Ken Carpenter, for election to the Ohio Hot Stove Baseball League Hall of Fame.
Ken Carpenter started in youth baseball the way most of us do, when our kids get old enough to play, the parents get involved. Ken's son Tommy was nine at the time and ready to graduate from T-Ball to something more advanced, and he landed on a Hot Stove team in Medina around the summer of 1999. Ken was "elected" to be the Personnel Director for the newly formed Hot Stove arm of the Medina Youth Baseball Association, and he quickly took the reins, developing the community's constitution and registering the first few teams. He was told, as we tell all our new communities now that he was expected to grow the program from its meager beginnings. No one knew that Ken was an overachiever! He increased the number of teams by 2001 to about 12 and then up to 22 teams shortly thereafter.
Ken is an avid promoter of Hot Stove Baseball and Medina Youth Baseball in general. Many a night Ken can be seen at Reagan Park in Medina, Talking to Parents, encouraging kids or grabbing a microphone and announcing a game on the PA system. Sometime around 2006 Ken was asked to be Vice President of the Lorain County Charter of Ohio Hot Stove Baseball, and about 2008 became President, a position he still holds today. His son Tommy has gone off to and graduated from college at the University of Georgia, and here Ken remains, involved, helping to provide a quality experience that parents want to have for their children.
He has been a calming voice for the charter when needed and a strict authoritarian when necessary. The one statement that rings true no matter whom you talk to either around Medina, or Lorain County Hot Stove, is that Ken ALWAYS puts the kids first. Every year at tournaments he watches a lot of games and is at the tournament sites, in the public eye, encouraging the kids and promoting Hot Stove Baseball, especially excited to see his beloved Medina teams winning a game. Many a year we have watched games together, hoping to see a Medina team make it to "State" only to see good teams get beaten in the regional's, This year, the year we put Ken in the Hall of Fame, the stars aligned, and the H league Medina Sharks battled their way to a berth in the Final Four, the first Medina team to make it here to Alliance since the 1980 Class E State Champion Medina Red, and as usual, Ken was there, watching, encouraging, and beaming with pride.
So, Ken, it is with great pleasure that We nominate you for the Ohio Hot Stove Hall of Fame, and thank you for your years of dedication and hard work on behalf of Hot Stove Baseball and the youth of the city of Medina.
Sincerely,
Doug Long, State Commissioner,
On behalf of the Lorain County Hot Stove Executive Committee

Randy Hendrickson :: 2011 Cy Butler Award Recipient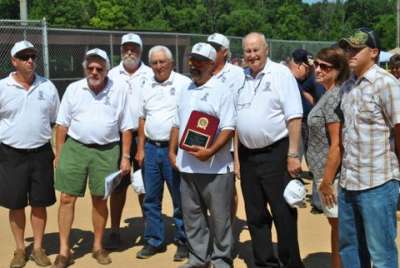 Randy holding Cy Butler Award plaque
Randy played Hot Stove Baseball class H, G, and F in Ravenna for his dad Chuck. When Randy turned 18 in 1975 he began umpiring. In 1978 Randy became Ravenna's umpire in chief. In 1980 Roger Cugini the State President of Ohio Hot Stove asked Randy to become the state umpire in chief. He held this position until 1987. At this time Randy became involved in the local volunteer fire department and temporarily left baseball. However the baseball bug came calling a second time and Randy was once again asked to be the state umpire in chief in 2004 the position he continues to hold to day. Randy has been instrumental in establishing guidelines for Hot Stove umpires to follow. He has been a tireless worker willing to travel throughout the state to offer teaching clinics for umpires both young and old. Today Ohio Hot Stove has one of if not the best umpire groups in baseball. I take great pleasure in being able to honor Randy with the Cy Butler Award for the year 2011.
Dan Morris, President
Ohio Hot Stove Baseball