Bob & Jennie Miscuda :: 2010 Hall Of Fame Inductees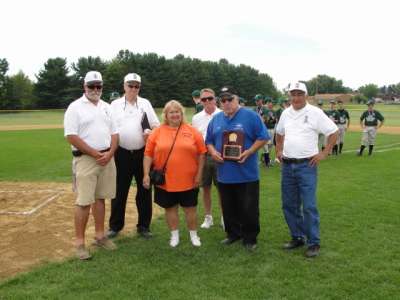 Jennie & Bob With HOF Award
In 1985, Bob and Jeannie Miscuda became involved in Hot Stove Baseball when their two sons started playing. Since then they have served several communities involved in Lorain County Hot Stove Baseball. Bob Started coaching in the Farm division in North Ridgeville. He has served as a manager or coach every year since. It did not take long for his wife, Jeannie, to start scorekeeping for both of her sonís teams. Bob has managed or coached every division from Boys Farm through Class D. He has also served as a coach for his Grand daughtersí team in girls Farm and Class A. over the past twenty-five years Bob has managed teams in North Ridgeville, Belden, Columbia Station, and Spencer. He is currently an assistant coach on his grandsonís Farm team in Belden. All the while Jeannie has been by his side, keeping score.
Early on in their involvement with baseball they became involved with the behind the scenes work and were voted onto the North Ridgeville executive board. It was during this twelve-year span that Jeannie served as secretary and was involved with the womenís auxiliary. Bob served as boyís personnel director. Together they were instrumental in securing funds and equipment to have lights put up on diamond # 2. They were also very involved with the purchase of the corner property that is now used for extra parking.
In Belden Bob, now serving as Equipment Manager and Jeannie handles the scheduling of team pictures and concession stand. Both Bob and Jeannie also have served on the Lorain County Board for the past twenty-one years. Jeannie as secretary, and Bob as Class EE and E Vice President. If you would like to find them at tournament time, that should not be hard to do. Just come to a Lorain County Tournament game. As he has for the past ten years, Bob will be doing all the things a Tournament Director does. As usual, Jeannie will be right there with him. Not only has Jeannie served him as wife, she is also his assistant. After forty-four years of marriage, there is not much they do not do together. It is only fitting that they are inducted into the Ohio Hot Stove Hall of Fame together.
Thank you for your consideration in this matter,
Sincerely
The Lorain County Hot Stove Executive Committee
Tom Gehring :: 2010 Cy Butler Award Recipient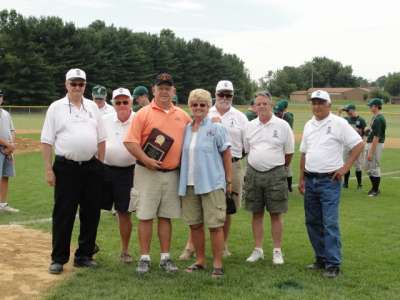 Tom holding Cy Butler Award plaque
Tom Gehring started coaching me when I was 11 years and I am now 44. Heís been coaching and has been on the Spencer Youth Sports Board all this time.
When I was 11 years old, I was starting my 4th year of Hot Stove Baseball in Spencer. We were going to have a new coach that year and it was Tom Gehring. I donít think anyone knew who he was.
We were a mixed team with 11 and 12 year olds. We all knew each other and had played together for awhile. Tom helped build our team to be a better team all the way through E ball. As far as I know, our team was his first team he coached. I wonder what he thought when he saw half of us at first practice with a wad of chew in our mouths.
My son has been playing ball for 5 years and he has finally met the man who coached me when I was my sons age.
Tom still helps coach a team in Spencer. He also advises our board at meetings. He helps to bring tournament games to Spencer and helps us organize them.
Tom and his wife Irene have also been very active in Black River High School Athletics. He helps the girls softball team and was the voice of the football team in the press box. Irene helps keep score at many of the Hot Stove tournament games. She was our score keeper when I played.
As a former player and now a coach and umpire in Spencer, I would like to thank Tom for all the dedication and time he has put into Spence and Lorain County Hot Stove.
From one of your ex-play-ball players and hundreds of other players you have touched, Thank you and congratulations Tom Gehring, you deserve this honor.
Eric Benson,
Spencer and Lorain Suburban Hot Stove Baseball