Bob Chase :: 2009 Cy Butler Award Recipient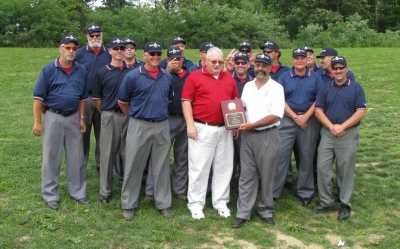 Bob Chase with the State Umpires
I would like to take this opportunity to nominate Robert Chase for the Ohio Hot Stove League Cy Buter Award. In his long association with the Hot Stove League, Mr. Chase provided invaluable services as an umpire, always set a fine example for the other umpires, and was well respected by coaches and players alike.
Using borrowed equipment, Bob began his career as an umpire while serving as an H league coach in North Akron in 1985 because he saw the need to improve the quality of the league's umpiring staff. He learned the principles of umpiring so quickly that he was umpiring state tournament games in Alliance within three years.
In 1995, Bob became the state Umpire-in-Chief for the Ohio Hot Stove League. In that capacity, he tirelessly traveled from town to town, improving our umpires' standards for dress, mechanics, and knowledge of the rules. Our league is more respected and a better place to play because of his efforts.
Bob continued to be active as an umpire in addition to his supervisory duties and remained as our Umpire-in-Chief until moving to Virginia in 2003. Even after moving, he returned to umpire District, Regional, and State Tournament games through 2008. He and his wife Cindy have graciously assisted the North Akron Baseball Association during the Paul Patton Memorial tournament as well as at the District and Sectional tournaments.
Bob Chase is the type of volunteer for which Cy Butler award was created. He donated his time generously, maintained the authority of the umpires without being controversial, and was an outstanding role model for the young people whose lives he enriched. It gives me great personal pleasure to nominate him.
Bob and Cindy have been married for 34 years and began his career in teaching that year. Bob and Cindy reside in Virginia and both are currently working with young people in the teaching profession.
Sincerely,
Chris Ludle
Board Member/Tournament Director
North Akron Baseball Association