Lou Vasi :: 2008 Hall Of Fame Inductee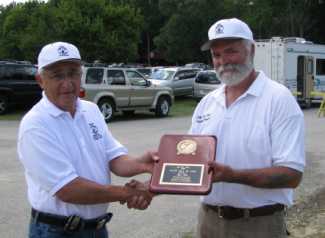 Ralph Martinelli presenting HOF plaque to Lou
Lou has been a member of the Hot Stove Baseball organization for nearly 30 years. In that time he has held nearly every position within the organization. Lou began as a coach in the North Ridgeville organization when his oldest son, Michael, began playing ball. He immediately became an integral part of the organization.
When most coaches were clamoring to have fewer players, Lou would always take the "extra" kid so as not to deprive a child of his right to play organized baseball. Fellow Hall of Famer's, Norm Gerhart, and later on Don "Pappy " Dennis would need only to go to Lou and say "We have another sign-up"…and Lou would make sure the kid not only got to play, but learned the game, and had fun as well.
Later on, when the winds of change finally swept through North Ridgeville, Lou was a calming force, taking on the Head Umpires role in that city, as well as working tirelessly with the local Parks and recreation department to ensure the longevity of Hot Stove baseball in that city.
Lou continued to coach his kids, umpire and be the Head Umpire, holding all umpires in North Ridgeville, and the whole Lorain County Suburban Charter to a standard unparalleled in this organization. He was eventually elected to the Lorain County Hot Stove Executive board as County Head Umpire, and then as State Commissioner, both positions he still holds today.
Lou again brings his calming nature and intelligence to the County organization, being the "go to guy" for questions, rules opinions, and the like. Lou works with an effort unmatched when it comes to the success of Hot Stove baseball, not only in the local area, but state wide as well.
As with most of our great volunteers, Lou spends nearly every spare moment on baseball issues, especially during the season. He is at the fields nightly, either umpiring or watching umpires or coaches who may need a little "assistance". And when he is not out and about, he is answering his phone or emails, handling issues on a local, county and state wide level.
Having gotten to know Lou quite well over the past 7 years, there is not a place you can go with him that someone doesn't recognize him. I hear of one story, that Lou was driving down the road, and approached a police check point. The officer approached the car, took one look, said "Your Lou, from Hot Stove, right?" And passed him on through.
The business of baseball and helping to run a county and state organization has not gotten to him, though. It is a family affair, with his lovely wife, Patty, serving as treasurer for Lorain County Hot Stove. His sons, Michael and Dustin serve as umpires, and he is back on the field again, coaching his step-daughter Brooke's Ohio Girls Softball Organization Team.
I can not think of anyone more deserving of this honor, and am proud to not only be associated with him, but to nominate him as well.
Sincerely,

Doug Long
Lorain County Hot Stove Baseball
Class H Vice President
Johnny Miller :: 2008 Cy Butler Award Recipient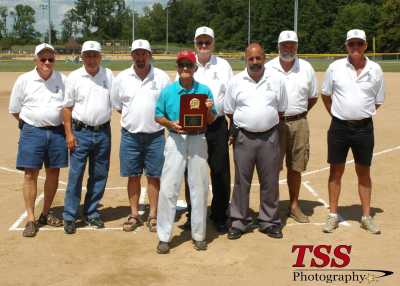 Johnny Miller holding Cy Butler Award plaque
On behalf of the Canton South Baseball Association, I am writing to nominate Johnny Miller for the Hot Stove Cy Butler Award. Having raised two baseball players in the Canton South community, I am very thankful for the effort that Johnny has poured into the lives of our young men.
Johnny was involved in the formation of the baseball association in the Canton South area many years ago before Hot Stove was developed in this area. It later became the supporting organization for many Hot Stove teams.
For 52 years he has maintained the field that now bears his name on Route 800 South. It is always in impeccable condition and drains better than any field in the county. He is always on the sidelines to watch the Hot Stove games played there and offers encouragement and constructive criticism on the finer points of the game.
Despite recently having celebrated his 90th birthday, he still travels to many Canton South regular season and tournament games for teams of all ages.
His integrity and commitment to the sport and the community are obvious to all that know him. I believe that honoring him in the way would encourage younger men to follow in his footsteps.
Respectfully,
Tesa Strasser